Jagorani Chakra Foundation (JCF) Job Circular 2022, has been published by the authority, this is a great opportunity for all people, because most people prefer to work for a good organization, in this case, the notification of this work is very important for the people,
most of the people in our country are unemployed, this work is very necessary for them, this is a great honor, this is a dream come true for the people of our country, this is an interesting job announcement for 2022, To get the Job Circular related information, you can visit my website is http://www.bdjobs20.com
Jagorani Chakra Foundation believes that young and strong people are the key to success in this field. Most people want to join the NGO sector sector. Jagorani Chakra Foundation Job Circular has been converted to an image file so that everyone can easily read and download this job notification. If you want to apply for this job, you have to submit your application as per the deadline. Jagorani Chakra Foundation Job Circular is given below.
Job Nature: Full Time.
Educational Qualification: Please, See The Job Circular.
Compensation & Benefit: Please, See The Job Circular.
Age Limit: Please See The Job Circula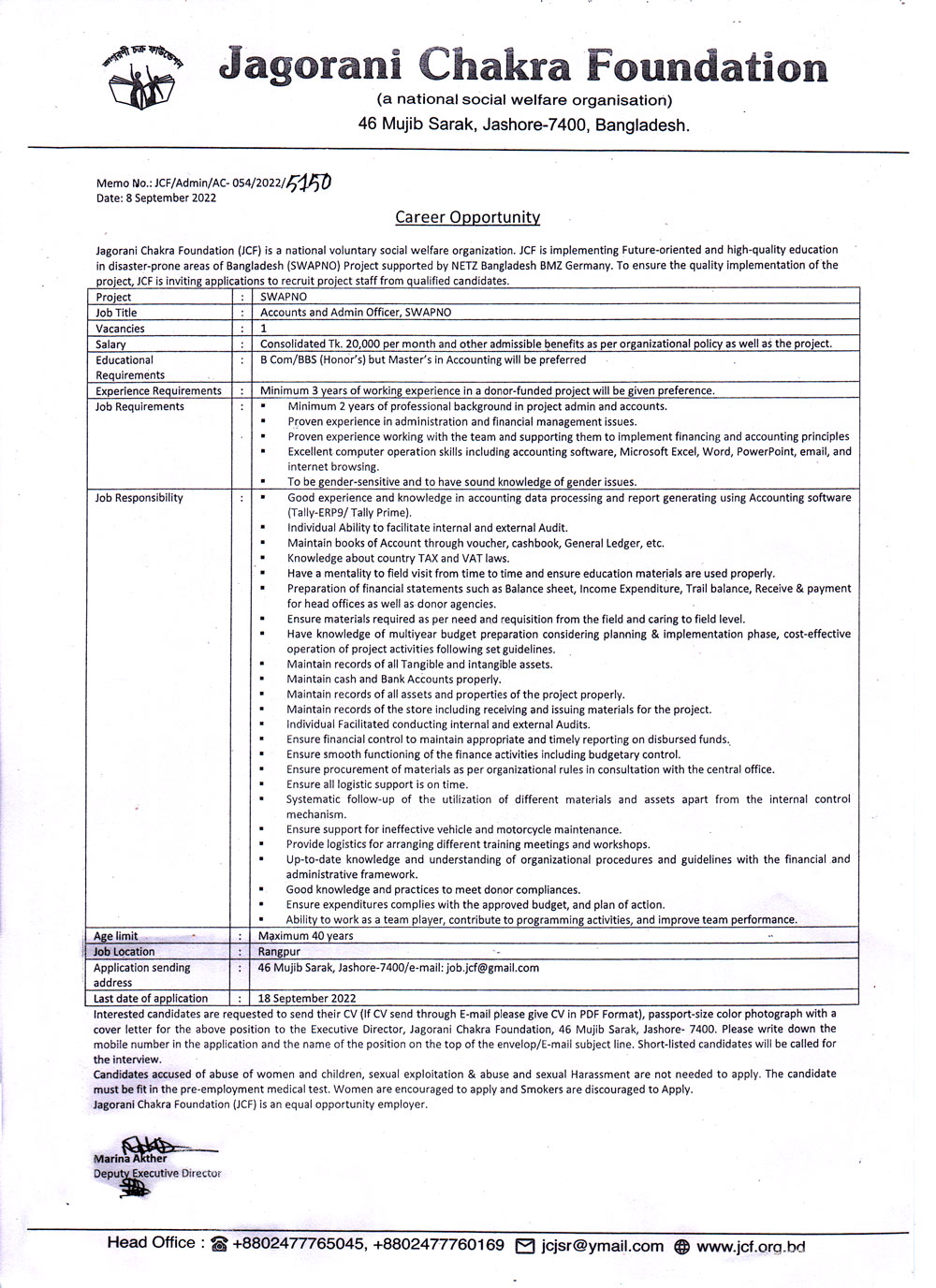 Job Source: Bdjobs.com
Application Deadline: 18 September 2022
Jagorani Chakra Foundation (JCF) is a national voluntary social welfare organization. JCF is implementing the USAID/Feed the Future Bangladesh Nutrition Activity (BNA) Project supported by Abt Associates. To ensure the quality implementation of the project, JCF is inviting applications to recruit project staff from qualified candidates.
Interested candidates are requested to send their CV, passport size color photograph with a cover letter for the above position to the Executive Director, Jagorani Chakra Foundation, 46 Mujib Sarak, Jashore- 7400. Please write down the mobile number in the application and the name of the position on the top of the envelop/E-mail subject line. Short-listed candidates will be called for the interview.
Candidates accused of abuse of women and children and sexual harassment are not needed to apply. The candidate must be fit in the pre-employment medical test. Women are encouraged to apply and Smokers are discouraged to Apply. Jagorani Chakra Foundation (JCF) is an equal opportunity employer.
Marina Akther
Deputy Executive Director
Marina Akther
Deputy Executive Director
For More Job Circular Visit Jagorani Chakra Official Website: jcf.org.bd
Check Jagorani Chakra Foundation (JCF) All Recent job Circular Posted On BD jobs
Send your CV to job.jcf@gmail.com or to Email your CV from MY BDJOBS account